About

The Hershey Partnership

The Hershey Partnership, a Hershey PA Chamber of Commerce, is dedicated to serving businesses that thrive on local as well as tourist commerce. There are many commonalities between Hershey businesses that serve those visiting the area and those who live here; however, there are also distinct differences. We pride ourselves in our ability to serve all of our members' unique needs, whether they be restaurants, retail shopping locations, Hershey attractions, or entirely different types of businesses.
Our Purpose
---
Promote member businesses to Hershey visitors, residents and fellow members.
Provide networking opportunities among member businesses.
Promote the common interests of Hershey area hotels, restaurants, services, and other Hershey attractions.
Provide promotional advertising, event sponsorship and professional development opportunities.
Create and environment of awareness, involvement, and cooperation within the local community.
Our Mission
Hershey Partnership-Continuing to make the greater Hershey area a better place to visit, live and conduct business.
History
The Hershey Partnership was formed in 1994 as an independent, non-profit organization which works to foster cooperation between local business and the community to promote the Greater Hershey Area as a year-round destination. This was formed from a coordinated effort between the former Hershey Business Association and the Hospitality Association of Hershey. The term "Partnership" was chosen because of its inclusiveness between both tourism and local business. Early projects included a Partnership Member Directory, the Sweet Deal Retail Discount Card, Seasonal Calendar of Events and a Hershey Visitors Guide. It quickly became apparent that the Partnership would succeed due to the commitment of its volunteer board and active committees. The structure of the organization has continued to evolve over the years to make it accessible to all types of businesses not only in Hershey but also from Lancaster, Lebanon, Harrisburg and the West Shore area as well.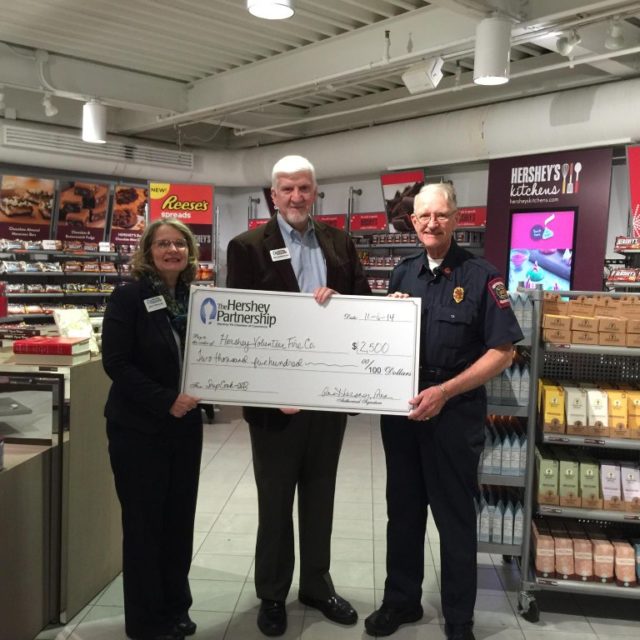 Committees
Volunteers abound in The Hershey Partnership, and they all accomplish great things!  Getting involved in a committee is a great way to enhance your membership value. Please contact the Chair for the Committee that interests you.
Professional Development Committee:
Chair Jonathan Sartini: This committee presents educational and professional development opportunities for our members through guest speakers and other presentations.
Destination Committee:
Chair Dave Stillwagon: The goal of this committee is to continue to keep visitors informed on all the Greater Hershey Area has to offer. We publish 150,000 copies of the Hershey PA Chocolate and More Map which is sent out to PA Welcome Centers as well as to hotels, motels, campgrounds, other businesses in the Central PA area, and our Hershey Information Center. Only Hershey Partnership members can participate in this great opportunity.
Membership Committee:
This committee works to identify businesses in the Hershey area and assigns committee members to reach out to them to join our organization. They also meet regularly to brainstorm for ideas on how to grow our membership. The Membership Committee is also instrumental in handling renewals and member retention and continues to act as a resource for all members who have questions or concerns.
Local Link Committee:
Chair Erika Kisphaugh: The goal of this committee is to promote increased community awareness and utilization of local businesses. Local Links strives to link member businesses with the local community and each other through key annual events such as the Fall Hershey Soup Cook-Off. This committee also participates in the Hershey's New Years Eve Celebration.
Networking Committee:
Chair Carol Shue: This committee schedules monthly breakfast meetings and other networking events hosted by various members.
Marketing Committee:
This committee develops and sustains an intentional, coordinated and consistent plan to promote The Hershey Partnership brand, community involvement, and business value associated with our organization.
Board of Directors
President, Ann Messner, Messner Publications, Inc.
Vice President/Secretary, Ruth Good, CRG Properties
Treasurer, Dave Stillwagon, Hershey Conewago Campground
Eric Nyman, Penn Hotel and Raw Bar
Karen Nye, Echo Dell
Jonathan Sartini, Manager, Hershey's Chocolate World Food Service
Doug Eby, Beef Jerky Experience
Kara Nestico, Korporate Computing
Our goal is to guide the Hershey Partnership to growth and to serve its members, as well as the community, as best we can. Feel free to browse our member directory or our publications page to find out more about Hershey and the Partnership's members.