17th Annual

Soup Cook-Off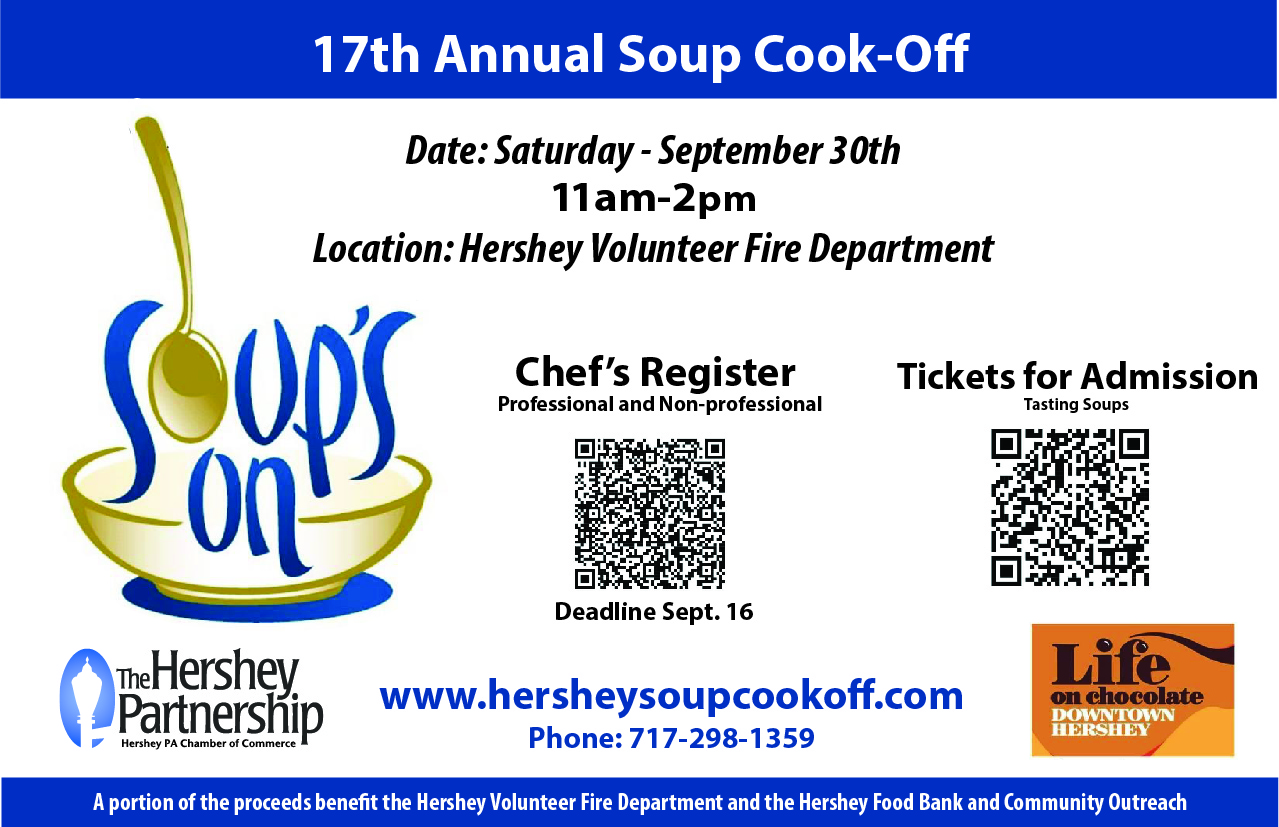 The 17th Annual Soup Cook-Off will be held on Saturday, September 30th from 11 am to 2 pm. The address of the event is 21 W. Caracas Ave., Hershey, PA 17033. This event is organized and run by the Hershey Partnership and Downtown Hershey Association which donates a portion of the event profits to the Hershey Volunteer Fire Company and the Hershey Food Bank and Community Outreach.
Each year 20-40 cooks, both professional and non-professional from the Hershey PA area prepare a wonderful variety of soups to be sampled. The public is invited to attend (fee charged) to sample the soups and vote for their favorites in each category.  At the end, the ballots are tallied and awards for 1st, 2nd and 3rd are presented to the Cooks in each category.
In addition to tasting and voting on the soups, raffle tickets may be purchased and attendees may win one of the many door prizes including our grand prize!
Winners for our 16th Annual Soup Cook-Off: In the non-professional category, winners were: First place, Sweet and Sassy Raspberry Chipotle Chili by Kathy Nickolaus; Second place, Autumn Apple and Butternut Squash Soup by Hope Springs Farm, Adult Day Program; and Third Place, Cheesey Chicken by Ashley Adams. In the professional category, winners were: First place, Pumpkin Ale Cheddar Bisque by Devon Seafood and Steak; Second place, Cheesey Chicken Enchilada Soup by Country Meadows of Hershey; and Third place, South of the Border Sweet Corn Soup by Courtyard by Marriott.
The Chef's Choice award is selected from the nonprofessional ranks by a vote of the professional chefs in attendance. Chef's Choice award went to Fred Stewart for his Reuben Soup with an Honorable Mention going to Federated Women's Club of Hershey for its Carrot Soup and to Tim and Carol Klinger for their French Onion Soup.
Past corporate sponsors:
Platimum –
ServPro of Hershey & Swatara
Gold –
Adventure Sports in Hershey
Fulton Bank
Great Sports Minds LLC
Nestico Druby, PC
Enders Insurance
---
Specific Activities
Host of soups to be tasted and voted on as 1st , 2nd, 3rd place
Door Prizes/drawings for $1,000s worth of products from Hershey Partnership members.  Fire trucks and displays from Hershey Volunteer Fire Company
---
Admission
$20 for Adults – pre-purchase
$25 for Adults – at the door
$10 for children 10 and under
Past Winners
16th Annual Cook-Off Winners
JUNIOR CHEFS 13 AND UNDER
1ST PLACE: Caldo de Gallina Peruavo by Gabriel Benavides-Huerta
2ND PLACE: Taco Chicken Noodle Soup by Nicholas Diacau and Gideon Petersen
3RD PLACE: Bacon, Broccoli and Cheddar Soup by Mia Caldonetti
BOB MCREDMOND AWARD-Previously known as NON PROFESSIONAL CHEF'S CHOICE AWARD
WINNER:  Reuben Soup by Fred Stewart
HONORABLE MENTION:  Carrot Soup by Federated Women's Club of Hershey
French Onion by Tim and Carol Klinger
NON PROFESSIONAL CHEFS
1ST PLACE: Sweet & Sassy Raspberry Chipotle Chili by Kathy Nikolaus
2ND PLACE: Autumn Apple & Butternut Squash Soup by Hope Springs Farms
3RD PLACE: Cheesy Chicken Taco Soup by Ashley Adams
PROFESSIONAL CHEFS
1st PLACE: Pumpkin Ale Cheddar Bisque by Devon Seafood and Steak
2nd PLACE: Cheesy Chicken Enchilada Soup by Country Meadows Retirement Community
3rd PLACE: South of the Border Street Cornbread Soup by Courtyard at Marriott
Hershey Partnership's
15th Annual Soup –Cook Off
Winners
Chefs' Choice Non-Professional Winner
1st place: Roasted Red Pepper Tomato Bisque by Scott and Heather Paterno
2nd place: Tuscan Sausage by Kim Corcoran
3rd place : Transylvania Chicken by Craig Schwartz
Jr. Chefs
1st Place: "Root Soup" by Mason Bennett
2nd place: "Chicken Brac" by Ixsaira Rivera and Harley Smith
Non-Professional Winners
1st Place: Roasted Red Pepper Tomato Bisque by Scott and Heather Paterno
2nd Place: Spicy Chicken and Rice with Ginger and Jalapeno Soup by Valarie Hall
3rd Place: Lentil Kale Sausage Pot Soup by Michelle Kopp
Professional Winners
1st Place: Fried Chicken and Mashed Potato Bisque; Ever Grain Brewing Company; Kurt Wewer
2nd Place: Langostino Lobster Corn Chowder; Lisa's Café; Nick Foust
3rd Place: Jarrod Eltz – Hershey Entertainment and Resorts – Parsnip Espresso Soup
Hershey Partnership's
14thAnnual Soup –Cook Off
Winners
Professional Winners
1stPlace:  Curry Crab and Asparagus Soup
2ndPlace: Cheddar Apple Brie Soup
Hotel Hershey; Jarrod Eltz and Sydnee Wolfe
3rdPlace: Lasagna Soup
Fenicci's of Hershey; Phil Guarno
Non-Professional Winners
1st Place:  Ham and Potato Artful Soup
2nd Place: Low Country Boil Chowder
3rd Place: Chicken Corn Noodle Soup
Chefs' Choice Non-Professional Winner
Chicken Corn Noodle Soup – Scot Landis
Jr Chef Awards
13 years and under:
1stPlace: Chicken and Gnocchi soup
2ndPlace: Grandma's Chili
3rdPlace: Cauliflower Soup
14-17 year olds
1stPlace: Broccoli Cheddar Soup
Mikayla Scott and Morgan Martin
Student Professional Chefs
1stPlace: Creamy Sweet Vidalia Onion Soup
Tyler Landis and Corina Henry
2ndPlace: Mexican Chicken Corn Chowder
Erin Leiss, Fernando Martinez, and Adreianna Shott
Non-Professional Chefs (2016)
1st place:  Scot Landis, Chicken Corn Noodle
2nd place:  Steven DiLello, Italian Sausage Soup
3rd place: The Hershey Area Art Association, Vincent Van Gogh's Sunflower Soup
Professional Chef's Choice Winner:  Erin Gaul's Seafood Lover's Dream
Junior Chefs (2016)
14-17

1st place:  Austin Rupert, New England Clam Chowder
2nd place:  Joe and Tyler (Lebanon Country Career & Technology Center), Tuscan Tomato Soup with Sausage
3rd place:  Emily, Jade, and Stazia (Lebanon County Career & Technology Center), Caramelized Butternut Squash Soup

13 and under

1st place:  Leah Roberts, Pozole
2nd place:  Griffin Decker, Caribbean Potcake Soup
3rd place:  Cali Overly, Cali's Corn Chowder