Friends Annual Book Sale
August 3, 2019 @ 9:30 am

-

August 8, 2019 @ 12:00 pm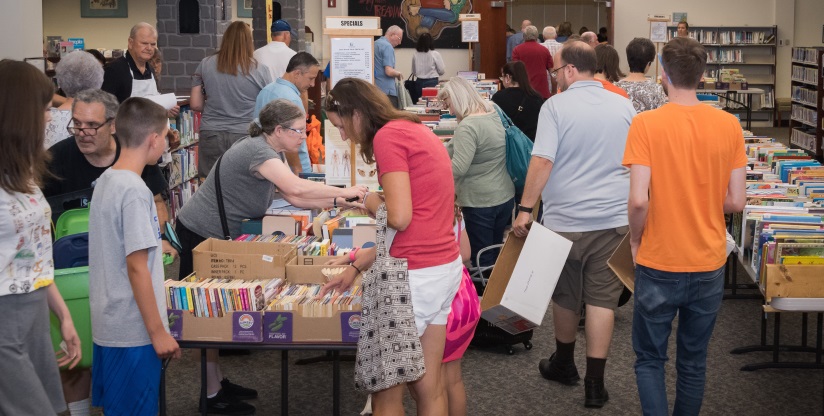 Friends Annual Book Sale 2019 for the BEST BARGAINS IN TOWN
The Friends of the Hershey Public Library's 38th Annual Book Sale will take place Saturday, August 3 to Thursday, August 8. The Hershey Public Library will be closed until 6:00 pm on Friday, August 2nd so volunteers can prepare for the sale.
Friday, August 2nd from 6:00 pm to 8:00 pm is the popular Preview Night only open to Friends members. Preview Night offers members a chance to purchase books before the sale opens to the public.  Attendees can register as a member at the Preview Night or go to https://friendsofhersheypubliclibrary.wildapricot.org/Membership
Membership categories are: Individual $15, Family $30; Patron $50; or Benefactor $100 or more. Joining at the Individual or Family Member level entitles you to purchase up to 20 books on Friends Preview Night at the annual Book Sale. If you upgrade beyond the Member level, you will be entitled to purchase up to 40 books.
BOOK SALE SCHEDULE:
Saturday, August 3 from: 9:30 am – 5:00 pm
Sunday, August 4 from 1:00 pm – 5:00 pm (Family Fun Day – lots of FREE space themed activities for everyone to enjoy, including a bounce house, and an ice cream truck!
Monday, August 5 to Wednesday, August 7 from 9:30 am – 8:00 pm
Thursday, August 8 from 9:30 am to 1:00 pm.
The Book Sale offerings include DVD's, CD's, audio books, music, maps, magazines, and books for all ages. Books are sorted by general topics, such as, cookbooks, romance, textbook, foreign language, art, children, etc. There is also a special section of the more valuable books with special pricing. While all the pricing is very reasonable, prices are reduced over the week of the sale.
The Friends have been conducting an annual Book Sale since 1981. In 2018, the Book Sale raised over $46,300! Along with Friends membership revenue, annual Book Sale funds are used to support the following programs and activities at the Library: Adult Programs, Adult Reading Groups, Guest Author Visit, Children's and Teen Programs, Children's Summer Reading Programs, Teen Summer Reading Programs, and Special Library Collections. Funds are even used to make physical improvements, such as the redesign of the Hershey Room and the Lobby.
If you would like to volunteer during the Book Sale to straighten and restock the books, check-out customers and collect payment, and other tasks, or have questions about the Book Sale, please email HersheyLibraryFriends@gmail.com
The Friends will accept used book donations at the Library after Labor Day Weekend.